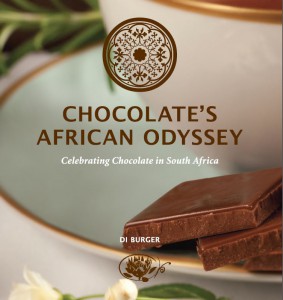 Chocolate conjures up images of decadence and deliciousness at once. You can eat it, drink it, cook with it, pair it with just about anything – Chocolate is a food hero.
It's been celebrated throughout the centuries and is the stuff of dreams for many. As a high quality speciality product in its own right and as an essential ingredient in baking and patisserie it now has a starring role on South Africa's food stage and it deserves to be taken seriously.
For pure indulgence, the reader is taken on a tour of the country's emerging chocolatiers, patisseries, food emporiums, cafés, restaurants and hotels that offer anything from a melt-in-the-mouth chocolate truffle, to a full blown afternoon tea. Our innovative Cape Winelands now offer scientifically matched flavour profiles for chocolate and alcohol pairing,with Waterford Wine Estate blazing the trail.
The book charts chocolate's history and its cultivation and explains the difference between fine and not so fine chocolate. There are masses of fabulous chocolate recipes that have a distinctly South African slant and for those who want to learn more, the book includes a number of culinary institutes that offer full or part time chocolate, and patisserie skills training. The index lists local and European chocolate makers and distributers from whom you can buy small or larger quantities of top quality couverture chocolate.
Turning the pages of this book will spark your sense of indulgence and make you want to join in the fun.